Single Ply Roofing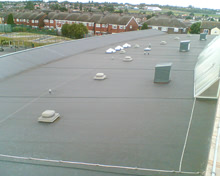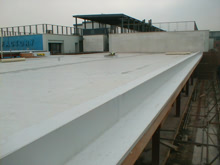 Most commonly used for new-build projects but now also becoming more prominent in the refurbishment market, these hot-air welded membranes, mechanically fixed or adhesive bonded, are normally specified for their speed of installation and flame-free application.
Sanderoof are approved installers for market leading Single Ply Membranes thereby entitling us to provide our customers with the advantages offered by the very best of flat roofing technology.
Single ply membrane systems are especially suitable as an overlay material for existing built-up felt and asphalt roofing. PVC single ply membranes are vapour permeable ensuring that moisture in the existing roofing will gradually disperse and consequently assist to dry out the existing roofing.
Our operatives are given thorough training by our supplier's providing our customers with a high level of workmanship during installation and a quality roof on completion.
Independent inspections are carried out by our suppliers both during the work and upon completion. This provides our company with technical back-up when required and our customers with additional support and peace of mind.